Contact Us Today!
We'd love to hear from you, and learn about your project.
We have talented designers, an awesome staff, free designs, no money down and and financing options available.
Patios
Patios extend outdoor living in a sophisticated, beautiful way, no matter the size or material. Whether you want to open your space to relax or entertain, when you can spend more time outside on a patio that you have designed alongside the expert team at Visionary Landscaping in Shelby Township, MI, your days and nights will be that much more enjoyable, appealing, and just right.
Types and Locations of Patios
Patios are one of the most popular forms of hardscape construction for outdoor living space. The options for designing a patio are numerous and versatile and can always be worked to fit the amount of room you have available. Some of the most common types and configurations of patios include the following:
Standalone: Whether circular, square, or meandering, a strategically designed standalone patio enhances a yard, blends with greenspace, and delivers room to lounge, walk, or simply enhance curb appeal.
Fire elements: Many families incorporate a fire pit or fireplace as the focal point of their patio. Enhancements can include built-in seat walls, retaining walls, or an area designed to fit chairs or benches. The fire element can be large or small, wood burning or coal, and instantly lends softness to a hardscaped space.
Swimming pool surround: Some patios are designed right alongside the installation of a swimming pool or added after the fact, delivering a stunning addition to this water feature to enhance the entirety of a backyard.
Sidewalks and steps: Patios don't always begin and end with a large footprint. Sometimes they start or end over a smaller amount of square footage, with a sidewalk or steps leading to or away from your home into greenspace, water features, or the front of the home.
Decking: Many homeowners discover their deck isn't enough to satisfy the amount of usage they give their outdoor space. Adding a carefully designed patio that blends with and extends the deck extends entertaining area and home value.
Grills and bars: When you want to bring your inside to the outside, especially if you entertain a lot and prefer to keep folks in one area of your home, one of the best ways to do that is with a customized patio grill or bar. This patio element blends with what's underfoot and delivers a savvy way to serve everyone by extending your indoor capabilities.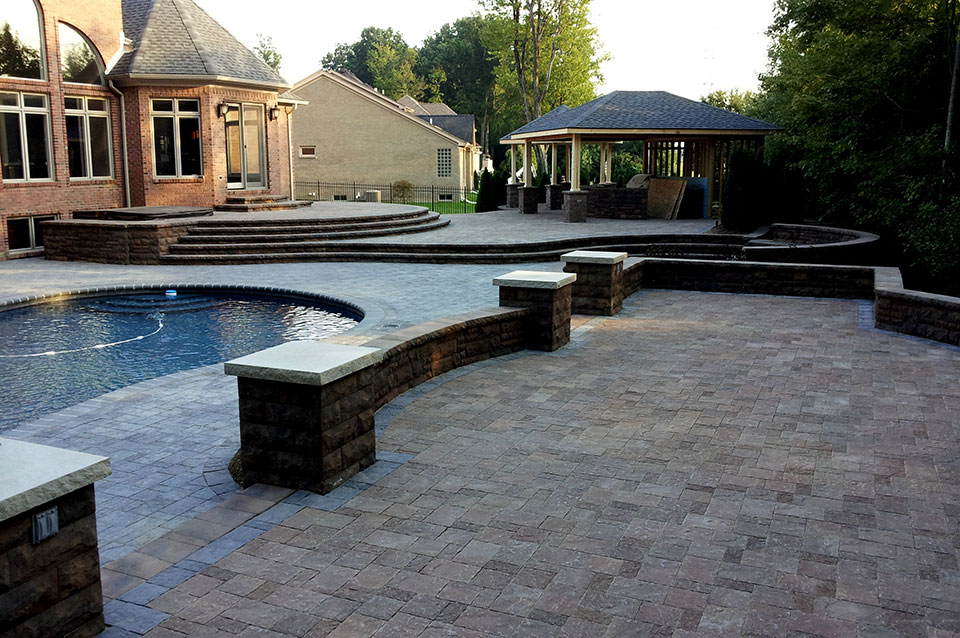 Types of Hardscape Material Used for Patios
Patios vary in looks, usage, and size depending on the materials used. Whether you want your patio to blend into your home or stand out uniquely in its own way, options can include the following:
Flagstone
Concrete
Pavers
Brick
Stone
Clay bricks
Your yard condition, where the patio will be located, and what you intend for the usage of the space will all inform the hardscaping recommendations your landscape designer makes.
Your patio can be as complex or minimalistic as you prefer. Whether you just want outdoor life for yourself and your partner, whether you have a growing family, or whether you love to entertain the neighbors, whoever descends regularly on your outdoor space will inform how much room you need to welcome your usual crowd.
Transform Outdoor Living with a Customized Patio
Patios are an amazing and almost necessary addition to outdoor living. The only question is: What's the right patio for your home? Work with the experts at Visionary Landscaping to create a 3D rendering of your home, from colors to materials. Contact us to schedule a consultation with one of our design and build contractors to find out what's possible.